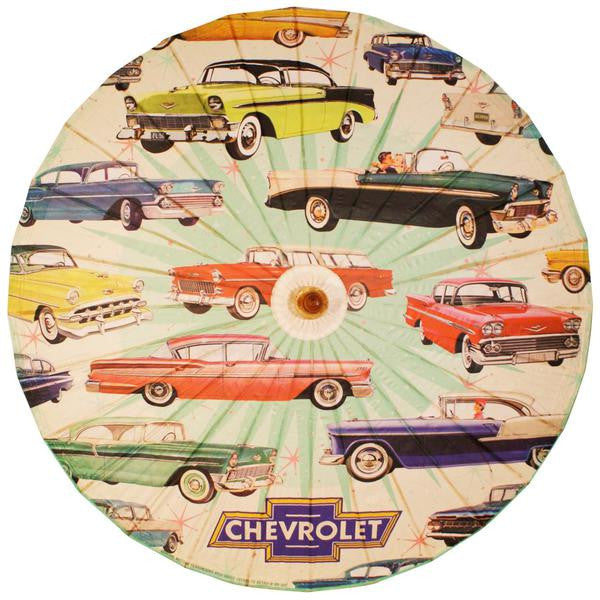 Paper Parasol (GM) Chevrolet
Vintage style parasol, (GM) Chevrolet Officially Licensed Product - show your brand loyalty at shows, aspire to the Pin-Up Lifestyle.
Original. Artful. Knock'em Dead Gorgeous! We're talking about you and your new parasol. They're the perfect accessory for strutting your stuff in the city, a hot rod car show, the beach, a garden soiree, concert, burlesque performance, whatever-wherever. No ho-hum-standard-fair of cherry blossoms and dragons designs here. Instead we offer up some spicier, custom-made, bright and bold options just for you. It's fun to get the attention you deserve while protecting your precious skin from the evil rays of the sun! They also make for stylish décor for any special space of your choice.
Join the 1950's parade of classic Chevrolet favorites. When you need to zip from here to there, let the colorful and new Chevy Parade get you there.

Paper Parasol measures 33" diameter w/ a 22.5" bamboo handle. Beautiful, hand-crafted worksmanship.